Earlier this week, news outlets published the results of a public-records investigation into what caused a massive wildfire in Arizona's Santa Rita foothills last year. The video footage procured by Arizona Daily Star reporters confirms what those who'd been following the case feared: The blaze began with a giant eruption of blue powder.
A U.S. Border Patrol agent and then-expecting father was attempting to create a spectacle out of the revelation of his baby-to-be's gender, so he shot a rifle into a target filled with an explosive combination of oxidizers and fuel. As one journalist put it, the plan "was doomed from the start": The area had been experiencing less-than-average rainfall and unusually high winds. Upon exploding into a plume of cerulean-colored smoke—it was a boy!— the target set off a blaze that ravaged the surrounding mesquite trees and yellow grassland. The man's gender-reveal party ended up burning 47,000 acres of parched state land, and cost $8.2 million to extinguish.
While this man and other parents-to-be have approached lethal extremes in pursuit of a legendary gender reveal for their unborn baby (see also: the Louisiana couple who recruited a 10-foot alligator named Sally to help them divulge the surprise), most participants in the gender-reveal trend have more manageable celebrations. Take the 20-year-old Juliann Mladineo. Just a few months into her first pregnancy, Mladineo was convinced she was having a girl. She and her 21-year-old boyfriend had initially decided to hold off on learning the baby's sex until birth, and the mystery made the already special pregnancy process "extremely exciting," Mladineo says.
But some of their relatives already knew the baby's sex; her sister had found out early on, when she accompanied Mladineo to the hospital for the gender-revealing ultrasound, and she spilled the beans to a few family members. They kept teasing Mladineo and her boyfriend. Eventually, the couple just couldn't resist any longer. They gave in to their relatives, and to another pressure as well: the temptation to leverage all the mystery and the surrounding hype and funnel it into a party.
Mladineo, who first learned about gender-reveal parties about a year ago, had noticed that many of her San Pedro, California, peers were having them, with a lot of them broadcasting footage of the spectacle on Facebook or Instagram. So when the temptation grew unbearable, Mladineo and her boyfriend decided that they, too, would trade in their thrilling mystery for an opportunity to partake in the fun. They invited around 60 of their friends and family members over to her parents' backyard. Guests—minus those who already knew—marked their prediction for the baby's sex on a chalkboard or on Polaroid pictures they'd taken of themselves and hung on a rope, all while snacking on color-coded cupcakes and chocolate cigars.
At the end, they set off confetti poppers, which, to Mladineo's surprise, rained down blue scraps of paper onto the guests. In February, Mladineo can expect to give birth to a baby boy. But this isn't the last time the couple will celebrate the baby—Mladineo plans to have a shower, too.
For American 20- and 30-somethings, who are in the thick of the milestone-heavy phase of early adulthood, it has become common to have multiple celebratory events to honor landmarks such as births and weddings. A busy wedding-season calendar for a young adult in 2018 is often peppered with commitments—not just the weddings themselves, but a marathon of additional parties that sandwich the ceremonies. At its most extreme, that marathon may be an indulgent prix fixe menu whose dishes include, say, a ritzy engagement party, bachelor(ette) weekends in Las Vegas and Nashville, a bridal-party lunch, a rehearsal dinner and pre-wedding bar night, and an after-wedding couple's shower (in addition, of course, to the wedding and the reception).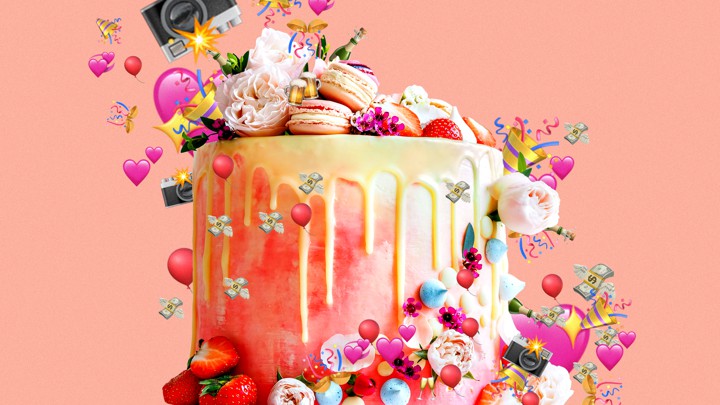 Read the full story: